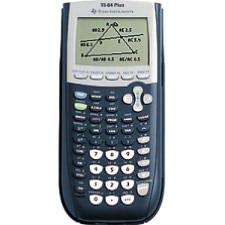 Alternate title - How i got a $130 calculator for under $50
.
C1 has been back in school for a few weeks so I've been doing a bit of school supply shopping. Most of my friends know I'm really good at school supply shopping and when there's a really good deal I'll blast it to all of them. Even so i still get questions about how i do it. So I'm going to share some of the ways i save as well as the deal i got recently while making a major school supply purchase.
If you want to spend as little as possible buying school supplies most people will say just wait for the tax-free weekend and get it all then. This is not the best strategy and the amount you save on taxes is probably negated by the lack of some of the better deals.
The school supply shopping season runs roughly 6-9 weeks. During this time is when you see some of the golden opportunity items, like index cards for a penny, 10 pencils for a dime, things like that. These aren't everyday deals you have to work for them. Your prep starts before you even get to the store. This won't take a ton of time! this is not some extreme couponing 50 hours worth of work.
1. Get 2 lists. - 3 minutes
Yes two. You need the list for your child and the list for the next grade.
If you want to really be ambitious, get the next 2 grades.
Now that you have your lists you can see what you need now and what you will most likely need next year. Some items are standard; pencils for the k-3 group, colored pencils instead of crayons once you hit 4th grade, etc. You'll see the patterns and know that for some items you get double or triple the amount on the list, because its going to last several years. Go ahead and make notes, you really only want to go to the store with 1 list if you want to travel light or if your like me 3 lists in a store means you end up only looking at one and have to go back.
2. Look at multiple store circulars for the items you need every single week. -30 minutes
Yes some people are admittedly Walmart shoppers. There is no love lost between me and Wally World but i know that some people shop there religiously. It has been proven in many other places that they aren't always the lowest prices. In order to save the most possible, you need to have the circulars of Walmart, Target,
Office Max
, Office Depot and
Staples
. The last 3 are
extremely
important. They are in the office supply business and tend to run the best deals hands down.
Those penny deals? Almost always at the office supply places. Its their niche go ahead and exploit it. You need these circulars because all these companies price match. Make sure you know exactly what the price matching policy is. Its usually on each of the stores websites and takes roughly a minute to find and 30 seconds to read. This step is important because....
3. Sometimes you have to go to more than one store
Always read the fine print of a sales circular. In some cases you can't price match because the deal will not be honored by the competing stores. This includes, mail in rebates, in store rewards, in some cases you get a free product and other stores will not honor that. In those cases if that store is not out of the way and its something you need go ahead and get it.
4. Plan your shopping over several weeks
If its not in the circular don't buy it, it will probably be cheaper later on. For example the week Target put out their school supply display index cards were about $2 a pack. They did hit a Target sale of 50 cents but they are a penny this week at Staples. When you get your circulars go to the store of your choice and get the items you want, circulars in hand ready to price match. This doesn't have to be a special trip. If you regularly go to Walmart or Target, there you go, get them while you are there. Just don't forget your list and your circulars.
5. Coupons
For some this is a no brainer for others they are saying huh? 3M loves sending me coupons. I see coupons from them and Avery year round. All you have to do is get on their mailing list and they send you coupons and in 3M's case free samples all year.
In addition to coupons direct from the brands the stores frequently offer a XX dollars off your purchase. You have to meet the minimum which sometimes you do, sometimes you walk out the store spending $2 for a bag full of stuff so you don't.
6. Don't forget to do your mail in rebates
Most places nowadays allow you to do your rebate online all you need is the rebate receipt. You know why they offer mail-in rebates? Because most people don't cash them in. I never miss a rebate, its cash why let them keep it?
7. Store loyalty programs
If you have a Target card you get 5% off every single purchase. (Plus a nickel for bringing your own bags), Staples has its own rewards program where you get a check to use on a future purchases. If you get upgraded to premiere as i was the checks have a longer expiration date. This year Staples has a Back to School Savings Pass. This pass costs $10 and gives you 15% off all your in-store school supply purchases from 7/13 -9/17 of this year. There are some exclusions; most noticeable are flash drives and toner, but pretty much everything you would see on a school supply list would be covered. If you have a small or no school supply stock i recommend you purchase it. In my case i passed on it this year. Because of my stock pile i only had to purchase some notebooks and the calculator I'll tell you about shortly. Just do some mental calculations. If you typically wait till tax free weekend you probably should buy it because then its 15% not less your states sales tax.
Most of my supply storage.
As i mentioned earlier i made a pretty big purchase for C1 this week. She's taking Algebra and needs a Ti-84 graphing calculator. I was given the option of buying one of 3 calculators, the Ti-83, Ti-84 plus or Ti-84 plus silver edition. I actually started researching this purchase last year via Step 1. I knew she would need it this year so i started pricing it then. I remembered the cheapest I'd seen it what time of the season and where.
I ended up purchasing the Ti-84 Plus Silver Edition from Staples. There's a big reason why i got it from Staples who did not have it on sale the week i bought it. The retail price regardless of the store is $129.99. Here's what i did.
On sale at Target that week in circular for $99 (price match)
$50 Staples gift card from laptop purchased last year (no expiration date)
$6 Staples rewards check from recycling ink
$ 99
-50
-6
= $43 + tax
Less than $50 for an item that retails at $130 and the cheapest advertised price i saw last year was $94.
-